Jim Melius. Leslie Nickels. Jack Sheehan. Mike McGraw. Paul Nyden.
As a new year starts, everyone from the New York Times to the Academy Awards looks back at those we have lost and the effect they had on our lives.
We've already discussed the sad losses of Adrian Markowitz, Rick Burns and George Yoksas last year.  But recently we've lost three giants of the occupational safety and health movement and two giants of investigative journalism.  Most left us far too soon. But hundreds of thousands of workers owe their lives, their health and their well-being to these people. They all inspired me and should inspire you as well. Sad, but not a bad legacy to leave behind.
Jim Melius
Jim died on January 1 at age 69. He had worked at NIOSH for many years and was most recently Administrator of the New York State Laborers' Health and Safety Trust Fund and Research Director for the Laborers' Health and Safety Fund of North America. According to longtime colleague Dr. Phil Landrigan in the New York Times obituary, "I think it's fair to say that Jim Melius was the senior medical officer in the entire American labor movement."
I've worked with Jim on and off throughout my entire career, including inviting him to a hearing on 911 Worker Illness that I organized when I was working on the Hill. It was a particularly contentious hearing, but Jim was his usual mix of indisputable expertise, combined with calm authority.
Others knew Jim much better than I, so I'm going to leave his obituary to Phil Landrigan, Rich Duffy & Knut Ringen.
James M. Melius, MD, DrPH was an occupational physician and a national and international leader in occupational medicine and epidemiology.  He was born in Great Barrington, Massachusetts in 1948 and died of cardiac arrest in Copake Falls, New York on January 1, 2018 at the age of 69. 
Melius was the principal architect of the James Zadroga 9/11 Health and Compensation Act of 2011, the federal law that supports an extensive program of medical monitoring and health care for first responders, volunteers and survivors of the attacks on the World Trade Center, the Pentagon and the Shanksville, PA crash site of Septe
mber 11, 2001. This Act also reopened the September 11th Victim Compensation Fund which has thus far provided over $3 billion in compensation to injured and ill 9/11 responders and survivors. With his knowledge of medicine and health policy, his multiple connections to legislators and labor leaders, and an uncanny sense of political timing, Melius designed the version of the Zadroga Bill that was successfully passed by the Congress in a dramatic lame duck session in the last days of 2010 and signed into law by President Obama in January 2011.  Melius worked with labor leaders across the United States, especially with the fire fighter, police and construction unions, with Senators Kirsten Gillibrand, Chuck Schumer and Hillary Clinton, and with Members of Congress Carolyn Maloney and Jerold Nadler of Manhattan and Peter King of Long Island to pass this landmark bipartisan legislation.  Jon Stewart, the well-known comedian and former host of The Daily Show, provided an invaluable boost to Melius' work when in late December 2010 he shamed a reluctant Congress into passing the Zadroga legislation through a series of widely watched broadcasts featuring sick and injured 9/11 responders who were unable to obtain medical care.  
Melius dedicated his professional life to protecting the health and safety of working men and women.  From 1980 to 1987, he directed the National Institute for Occupational Safety and Health's renowned Health Hazards Evaluations and Technical Assistance Branch based in Cincinnati. From 1987 to 1994, he served under Governor Mario Cuomo as Director of the Center for Environmental Health in the New York State Department of Health where he oversaw the establishment of a statewide network of Centers of Excellence in Occupational Health and Safety, the only such network in the United States, which continues to this day and formed the backbone of the medical response to 9/11. From 1994 until his death he was Administrator of the New York State Laborers' Health and Safety Trust Fund and Research Director for the Laborers' Health and Safety Fund of North America, organizations affiliated with the Laborers International Union of North America. 
Melius developed a special relationship with the building and construction trades unions, and spent much of his career improving safety and health on construction sites. Until the late 1980s this industrial sector, which contains some of the most hazardous workplaces in America, had been neglected by researchers and policymakers alike. Melius helped to end that neglect by assisting the Laborers International Union to develop a unique national program that encompassed not only occupational safety and health but also health promotio nactivities such as smoking cessation, the first – and still the only – national worker protection program that uses health insurance premiums to support occupational safety and health.  He also forged an agreement between the National Institute for Occupational Safety and Health and the construction industry to create the National Construction Safety and Health Research Program.  In consequence of these efforts, 500 fewer workers die each year on construction sites today than in 1990.
In 1983, Melius was appointed Chairman of the Medical Advisory Board for the International Association of Fire Fighters. There he conducted research on occupationally induced hearing loss, chronic obstructive pulmonary disease, asbestosis and cardiovascular disease in fire fighters and was instrumental in securing passage in many states and Canadian provinces of laws that presume cardiac deaths or cancer deaths in fire fighters to be occupationally related and therefore deserving of compensation.  Melius championed the development and implementation of medical monitoring programs for first responders across North America.  
At the time of his death Melius was the Chair of the Presidential Advisory Board on Radiation and Worker Health, which addresses compensation for cancers caused by ionizing radiation in workers employed in nuclear weapons facilities in the United States.  In New York City, he was Chair of the Steering Committee for the World Trade Center Medical Monitoring and Treatment Program and was a founding member of the Board of Directors of 911 Health Watch. He served on multiple advisory committees to the New York State and Federal governments and to the National Academy of Sciences.  
Melius was for many years a Fellow and since 2012 the Treasurer of the Collegium Ramazzini, an independent, international society in occupational and environmental health headquartered at the Castello di Bentivoglio near Bologna, Italy,that is dedicated to the protection of occupational and environmental health; the Collegium is named in honor of Bernardino Ramazzini, an Italian physician of the 17th century, considered the father of occupational and environmental medicine.  In 2012, Melius was recipient of the Collegium Ramazzini's Irving J. Selikoff Memorial Award in recognition of his "lifetime's work of protecting working men and women from occupational hazards and his heroic service on behalf of the 9/11 rescue workers".
James Malcom Melius graduated from Brown University with an AB in Biology in 1970, obtained an MD degree from the University of Illinois College of Medicine in Chicago in 1974,and a DrPH degree from the University of Illinois School of Public Health in 1984. He trained clinically at Cook County Hospital in Chicago and was board certified in General Preventive Medicine and Occupational Medicine. He served for 20 years as member of the adjunct faculty of the Department of Environmental Medicine and Public Health in the Icahn School of Medicine at Mount Sinai in New York City. He is survived by his wife, Melanie and two sons, Jeremy and Ehren.
The beneficiaries of Jim Melius' lifetime of dedication to occupational health and safety are the tens of thousands of workers across America who have been spared injury and premature death because of his work and the fire fighters, police officers, paramedics, construction workers and volunteers who participated in rescue, recovery and rebuilding operations at Ground Zero, the site of the World Trade Center, in the days, weeks and months after 9/11.
Philip J. Landrigan, MD, MSc, is at the Icahn School of Medicine at Mount Sinai, Knut Ringen, Dr.P.H. is a  Science Advisor at the Center to Protect Workers' Rights, and Richard Duffy, M.Sc, is the former Assistant to the General President for Occupational Medicine, Health and Safety for the International Association of Fire Fighters (IAFF)
Leslie Nickels
Leslie, a long-time leader in occupational safety and health at the University of Illinois at Chicago School of Public Health, died last November 27th at age 64. The Chicago Tribune obituary noted that "During her forty-year work career Leslie has been an activist, organizer, educator, mentor, historian, and researcher in a range of occupational and environmental activities that supported social justice and worker rights, especially touching the lives of disenfranchised groups of workers throughout the world."
But her former colleague Celeste Monforton said it all best:
Leslie embodied the heart and spirit of public health. She was passionate about social justice and advocacy, devoted to educate and mentor, committed to research, and loved public health's history of struggle, resistance, and victories."
The occupational health and safety community is mourning the death of Leslie Nickels, MEd, PhD, who passed away earlier this week from breast cancer. Leslie embodied the heart and spirit of public health. She was passionate about social justice and advocacy, devoted to educate and mentor, committed to research, and loved public health's history of struggle, resistance, and victories.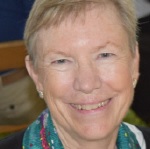 Leslie's career included positions with the Chicago Department of Public Health, the University of Illinois School of Public Health, the National Institute for Occupational Safety and Health, and the World Health Organization. She worked for more than 40 years with communities and workers to improve the conditions that adversely affect their health. Her occupational health and safety research included collaborations with home care aides, day laborers, construction workers, and farm workers.
Leslie's contributions to public health were recognized with admiration last month with a lifetime achievement award from the Health & Medicine Policy Research Group (HMPRG). Dr. Linda Rae Murray presented the award, saying:
"Leslie is one of the national leaders in occupational health and safety, and that is a field that is very controversial, underappreciated, and often ignored. Make no mistake about it, this is a war, and Leslie Nickels is one of our finest warriors."
Dr. Murray went on:
"I first had the pleasure of meeting and working together when we were students together over 40 years ago, and she really represents in our field someone who has been able to bridge the different silos of the struggle. That is how we are defeated all the time, because we decide that we are an expert in biochemistry, or we're an expert in safety, or an expert in nursing.
Leslie has taught all of us in health and safety that we have to bring together all these disciplines."
My favorite recollections of Leslie are from our membership with the American Public Health Association (APHA). I relished hearing about her escapades searching archives for historical treasures about Dr. Alice Hamilton (1869 – 1970).
At the APHA annual meeting in 2014, for example, Leslie presented "Alice Hamilton and The Illinois Survey 1910-1911: Shifting paradigms in documenting workplace disease." (You can see and hear it streamed here.)  She spoke about Alice Hamilton with admiration for the barriers the physician and advocate broke down to improve worker protections. I remember, too, the twinkle in Leslie's eyes and her joyful smile when she noted that she and Alice Hamilton shared the same hometown. They were kindred spirits from Fort Wayne, Indiana!
Leslie Nickels shared her love of occupational health history with others, including Mark Catlin, director of safety and health for the Service Employees International Union. (Mark's YouTube channel features hundreds of archival film and video clips on worker safety topics.) In December 2016, Mark said that Leslie gave him a "grand afternoon labor history tour" around Chicago. It included a stop at the Haymarket Memorial monument at its temporary location in Chicago's Union Park.
Mark also shared this memory with me:
About a year ago, Leslie emailed me excited about listening to the voice of Alice Hamilton, on a 1963 oral history interview she'd uncovered at the Center for the History of Medicine at the Countway Library of Medicine in Boston.
A few weeks later, I was at that same library. As I heard Dr. Hamilton's voice for the first time – I texted Leslie that I was happily smiling as I listened.
She immediately texted back – 'I did the same!'
That audio recording (3 minutes) is available on Mark Catlin's YouTube Channel. On it, you'll hear Dr. Alice Hamilton speaking with Dr. Jean Curran about the inadequacy of protecting workers from lead poisoning. (Curran's voice is heard at the beginning of the recording.) I can absolutely imagine the joyful look on Leslie's face as she listened to the voice of Alice Hamilton. Leslie Nickels—the educator and activist—would encourage you to listen to Alice Hamilton's voice for yourself.
Upon accepting the award from the Health & Medicine Policy Research Group, Leslie shared words of advice from Alice Hamilton's mother.
"There are two kinds of people in the world: those who say 'somebody ought to do something about it, but why should it be I', and those who say, 'somebody must do something about it, then why not I?"
Leslie Nickels embraced that maxim with gusto. She said, "why not I?" time and time again. Our world is a better place because she did.
Jack Sheehan
Another major recent loss was the death of Jack Sheehan, former Legislative Director of the United Steelworkers and literally one of the founding fathers of the Occupational Safety and Health Act.  Back in the early 1980's when I was just starting out in occupational safety and health, I would frequently run into Jack at meetings and conferences and was always transfixed at his historical knowledge, his wisdom, his strategic advice and his good humor (which was not easy in the year of Ronald Reagan.) And, as Mike Wright describes below, his ability to merge concerns of labor and environmental activists — because steelworkers breathed the air inside and outside of the steel mills. Jack died on December 21 at the age of 91.
A few comments about Jack, first from USW Health and Safety Director Mike Wright:
Jack was one of the driving forces behind the creation of both OSHA and MSHA, and he kept up with safety and health issues; he was always willing to help think through strategic questions or to talk to a member of Congress when either agency needed some protection. But his greatest contribution may have been to environmental activism. He made environment a union issue in the 1960's. Through Jack the USWA lobbied hard for every major environmental bill beginning with the Clean Air Act in 1963. Under Jack's leadership we held our first union-wide environmental  conference a year before the first Earth Day. We were a founding member of the National Clean Air Coalition. Sometimes environmentalists would praise us for being environmental in spite of the fact that we are a smokestack union. "You don't understand," Jack would say, "we're environmental BECAUSE we're a smokestack union."
And from Steve Wodka who worked with Jack and Tony Mazzocchi to pass the OSHAct.
While Tony and I may have supplied some of the ammunition for the passage of OSHA, Jack provided the skills to use it up on the Hill.  He knew his way around, he knew who to contact, and he knew what strategies would be successful.  There is no question that there would not have been an Occupational Safety and Health Act without Jack.  I enjoyed working with him.  I am sad to hear that he is no longer with us.
Thanks to SEIU's Marc Catlin (who has assembled an amazing YouTube library of historical workplace safety films) you can get a glimpse of Jack here.
Mike provided a copy of an article in the Pittsburgh Post Gazette when Jack retired
Most people outside of the United Steelworkers union don't know Jack Sheehan. But he probably had an impact on your pension, the safety of your workplace, and the quality of the air that you breathe.
Since becoming a Washington lobbyist for the USW in 1959, Sheehan has earned a reputation as an environmentalist, a consumer activist and an advocate of workplace safety and employee pension rights.
A founder of the Consumer Federation of America, Sheehan backed the Truth in Lending bill and the Employee Retirement Income Security Act of 1974, passed to protect workers from the loss of promised pension or health benefits.
"Prior to 1974, pension plans were rewarded for longevity. You left beforehand and you were out," Sheehan, 70, said last week while preparing for his retirement on Friday. "Now it's five years and you (are vested). That was a big breakthrough."
Sheehan also had a hand in the development of laws that formed the Occupational Safety and Health Administration, which oversees workplace safety, and the Mine Safety and Health Administration, OSHA's counterpart in the mining industry. He pushed for the Clean Air Act, the Civil Rights Act, the reformation of immigration laws and a minimum wage law – even though his members were highly paid industry workers.
I like to think that all that time that I've been here was kind of a fulfillment of a contract known as the New Deal," Sheehan said. "It was kind of a social contract – the Truth in Lending bill, ERISA, Clean Air, OSHA. These were all dealing with a person's economic welfare, the quality of their life, and the union was committed to advancing the quality of life."
Sheehan was born in 1926, son of a New York City garbage truck driver. He joined the USW's staff in 1951, and in 1959 moved to Washington to lobby Congress for the union and to encourage steelworker participation in the political process at federal and state levels.
He was hired by the union's first president, Philip Murray, and worked for the succeeding five presidents. Hundreds of bills passed by Congress during nine U.S. presidencies bore the imprint of the USW's influence because of his work.
Many longtime acquaintances – allies and foes alike – describe him as a skillful lobbyist who used reason and intellect to persuade. Facts and figures were his tools.
"Some people think they can just blast their way through an issue. Jack's approach is to reason with you, to get you to understand substantively as well as politically why workers need what they need," said Peggy Taylor, legislative director for the AFL-CIO.
Some of Sheehan's early work, including ERISA and the founding of the Pension Benefit Guaranty Corp., the federal agency guaranteeing private pension plans, proved eventually to be of benefit to the union's members, though at the time it was framed, he said, "it was just the idea of social injustice."
The health of pensions became a dramatic issue for the union at companies like LTV Corp. and Wheeling-Pittsburgh Steel in the turbulent 1980s when the industry shrank at a rapid pace.
"We became the major beneficiary of an act which we did not think we would be the major beneficiary," Sheehan said.
He trained others in the union in the art of lobbying and, according to his staff, would argue with them about the reasoning behind the union's position on bills before final policy was set.
"I don't think there was a labor lobbyist or legislative foe that ever discredited him for what he had to say about an issue, because he so thoroughly researched it," said Kenneth S. Kovack, the union's retired assistant legislative director. "He really knew right from wrong and he practiced it."
Sheehan had a reputation as a pack rat, Kovack said. His office was filled with shelves of books and he frequently shipped records of union testimony before Congress and other activities to archives at Penn State University.
Only nails were left on his office walls by Friday. He took down photographs of demonstrations, including sand and gravel miners protesting outside the Department of Labor; drawings of steel plants; and an arresting wall hanging from a famous scene in the film, "Norma Rae." Actress Sally Field, playing a Southern textile worker, pleads for the sympathies of her fellow workers by holding up a hand-lettered sign reading "union."
Sheehan left his big cluttered Washington office across from the White House at a time of transition to a global economy that he said makes it difficult to provide protections for workers.
Gone, too, is the nation's optimism. No longer, he lamented, is government looked upon as a positive agent for change. "You were pushing up hill, but you thought you could get there," he said, of his efforts as a lobbyist.
Investigative Reporters Mike McGraw and Paul Nyden
In these days when the value of good investigative reporting has never been higher, we've also recently lost two of the nation's leading investigative reporters. Mike "Mick" McGraw, who retired in from 2014 after 30 years with the Kansas City Star, had written extensively on a variety of topics, including the deadly Bartlett Grain explosion which killed 6 workers in 2011. Paul Nyden of the Charleston Gazette, spent his career detailing coal industry abuses and government corruption. 
The passage of journalists has one advantage: their colleagues write moving and inspiring obituaries that must be read. Read them both.
McGraw's obituary is here.
McGraw was a true professional and "real-life legend," said Mark Zieman, vice president of operations for the McClatchy Co. and former editor and publisher of The Star.
"He could investigate you, expose your secret wrongdoings, have you arrested and sent to jail, ruin your life, and you'd still take his phone call," Zieman said. "His reporting won nearly every major award our industry bestows. But more important, his investigations bettered the lives of thousands of people, in Kansas City and across America — people who in many cases were victims and voiceless and had no hope for justice until Mick came along."
Nyden's obituary, written by his friend and colleague Ken Ward, is here.
Nyden defended the public's interests by consistently taking on powerful state businesses and challenging political leaders across West Virginia. He exposed deadly safety violations, renegade strip-mining and unscrupulous tax scams in a career that spanned more than three decades.
"Paul never labored for riches or title. He labored to bring sunshine to the dark little corners of political corruption and grime in order to make West Virginia a better place to raise a family," said attorney Bruce Stanley, a longtime friend and sometimes source. "So, so many West Virginians are so much better off thanks to the hard work of this intelligent, caring human being."